A member of a Maryland job pressure geared toward combating hate crimes revealed quite a few antisemitic social media posts, together with claiming that the infants brutally murdered within the Oct. 7 Hamas assault had been "fake," and evaluating the nation of Israel to Nazi Germany.
Zainab Chaudry, an anti-Israel activist who serves because the director of the Council on American-Islamic Relations' (CAIR) Maryland workplace, made the posts within the weeks following Hamas' assault, which noticed greater than 1,200 folks killed, together with kids and infants, in addition to quite a few rapes and destruction of property.
"I will never be able to understand how the world summoned up rage for 40 fake Israeli babies while completely turning a blind eye to 3,000 real Palestinian babies," Chaudry wrote in a Facebook publish dated Oct. 26.
WATCH: WHITE HOUSE ISSUES BRUTAL RESPONSE TO BIDEN'S 'INAPPROPRIATE' NICKNAME GIVEN BY ANTI-ISRAEL CRITICS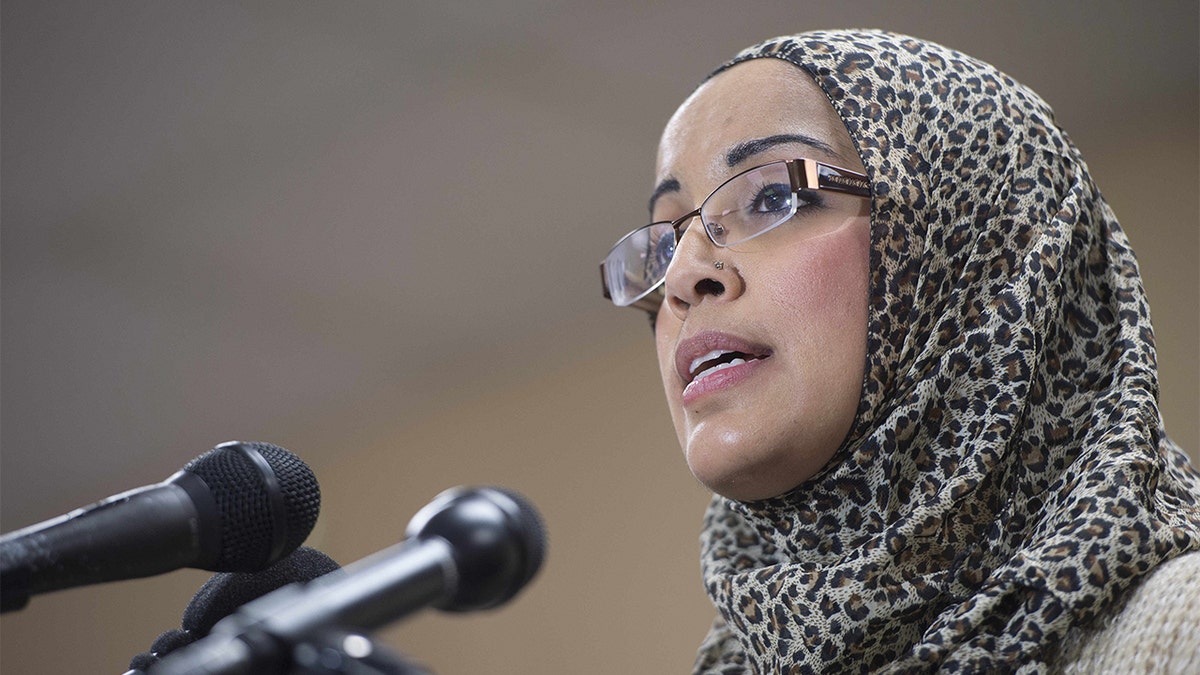 "[T]hat moment when you become what you hated most," Chaudry wrote in an Oct. 17 publish, together with two images of the Brandenburg Gate in Berlin, Germany, one displaying it lit up with the Israeli flag in solidarity with Israel following the assault, and one other from a ceremony in 1936 when it was embellished with the flag of Nazi Germany throughout the Olympics that yr.
In one other publish from Nov. 6, Chaudry appeared to recommend the mere existence of Israel as a nation was the reason for the continued struggle, writing it was an "inconvenient fact." She included a picture of the phrases "it all started in 1948," the yr Israel was based as a nation.
Others from the weeks following the assault confirmed Chaudry sharing a quote celebrating "martyred Palestinians," and a publish citing what gave the impression to be an Islamic prophesy that mentioned "garrisons who defend the lands of Islam will be in Ashkelon," an Israeli metropolis north of the Gaza Strip.
DEMOCRATIC SOCIALIST MEMBERS OF CONGRESS HAVE NOT CONDEMNED VIOLENT ANTI-ISRAEL PROTEST TARGETING OWN PARTY HQ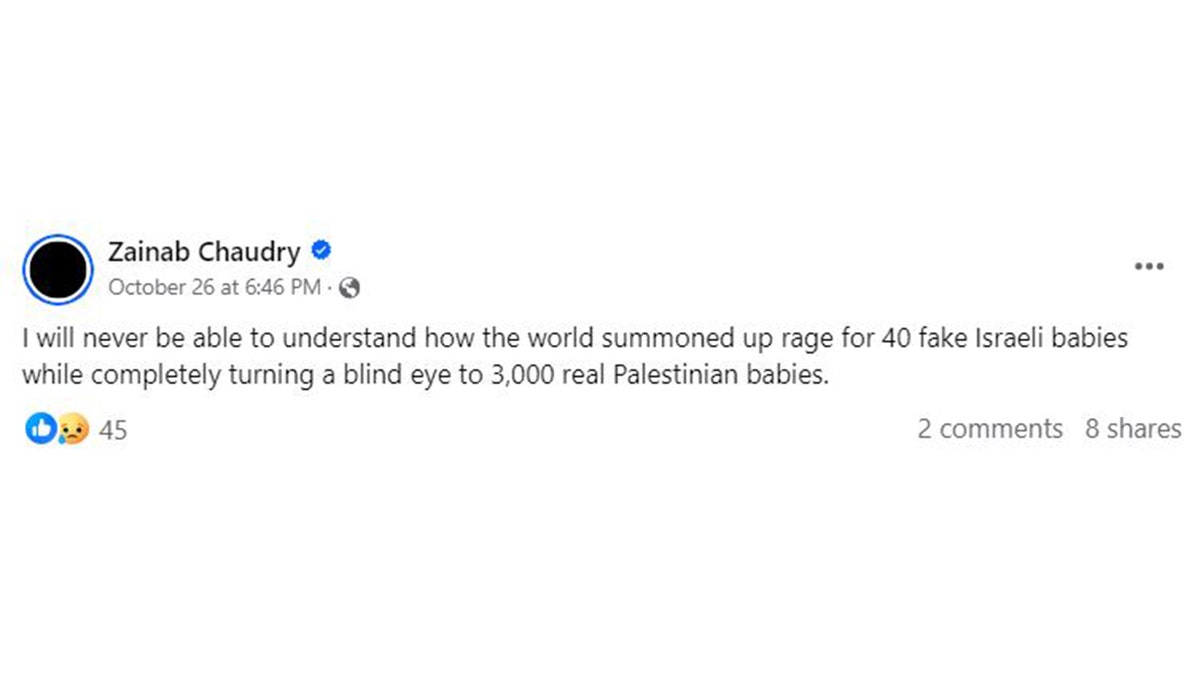 Despite the posts, Chaudry has maintained her place on the Maryland Commission on Hate Crime Response and Prevention, a place for which she was nominated by Democrat Maryland Attorney General Anthony Brown in August.
The fee's purpose, in keeping with Brown's workplace, is to deal with hate crime incidents throughout Maryland, and to "communicate and promote understanding of diverse perspectives in a positive and meaningful way."
Brown's spokesperson, Jennifer Donelan, informed Fox News Digital that "the views and opinions of any individual Commission member do not reflect those of either the Maryland Commission on Hate Crime Response and Prevention or the Attorney General."
BIDEN'S APPROVAL RATING SINKS OVER ISRAEL-HAMAS WAR; SUPPORT FOR TRUMP IN 2024 RISES: POLL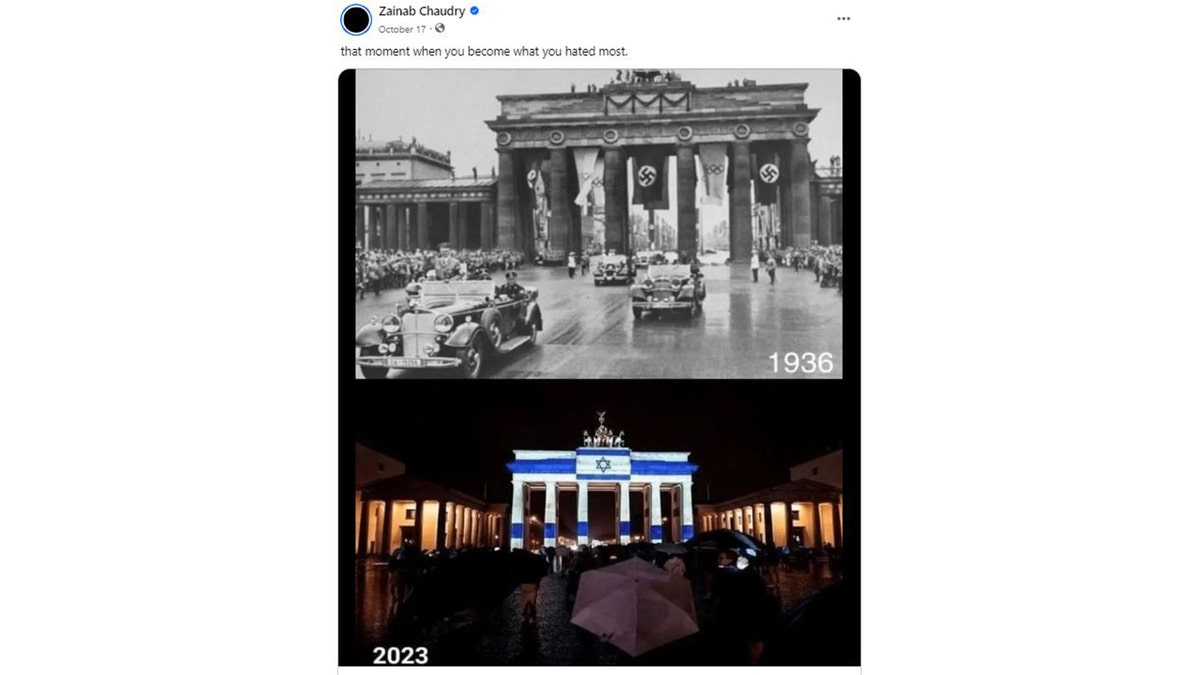 "We understand that there are many viewpoints regarding current events in the Middle East. The Commission will do its best to explore the impact of those events on our community, and to determine how best to address escalations in hate and bias incidents across the state," she mentioned, explaining that the Commission would "develop policies and protocols governing its work" and the way its members have interaction on the problems. 
"Just as we urge others to do, the Commission will identify ways in which we can foster productive and empathetic dialogue amongst ourselves that leads to mutual understanding. We, like the rest of the world, must first talk to one another and, most importantly, listen to one another as we work toward the goals of peace and tolerance," she added.
When reached for remark, Chaudry informed Fox News Digital that the "Nazi post" was initially shared "by a close Jewish friend," earlier than happening to accuse the Israeli authorities of desirous to commit genocide in opposition to Palestinians.
NYU CANCER DOCTOR SUES HOSPITAL, SCHOOL OVER PRO-ISRAEL POSTS, SAYS HE'S A 'SACRIFICIAL LAMB'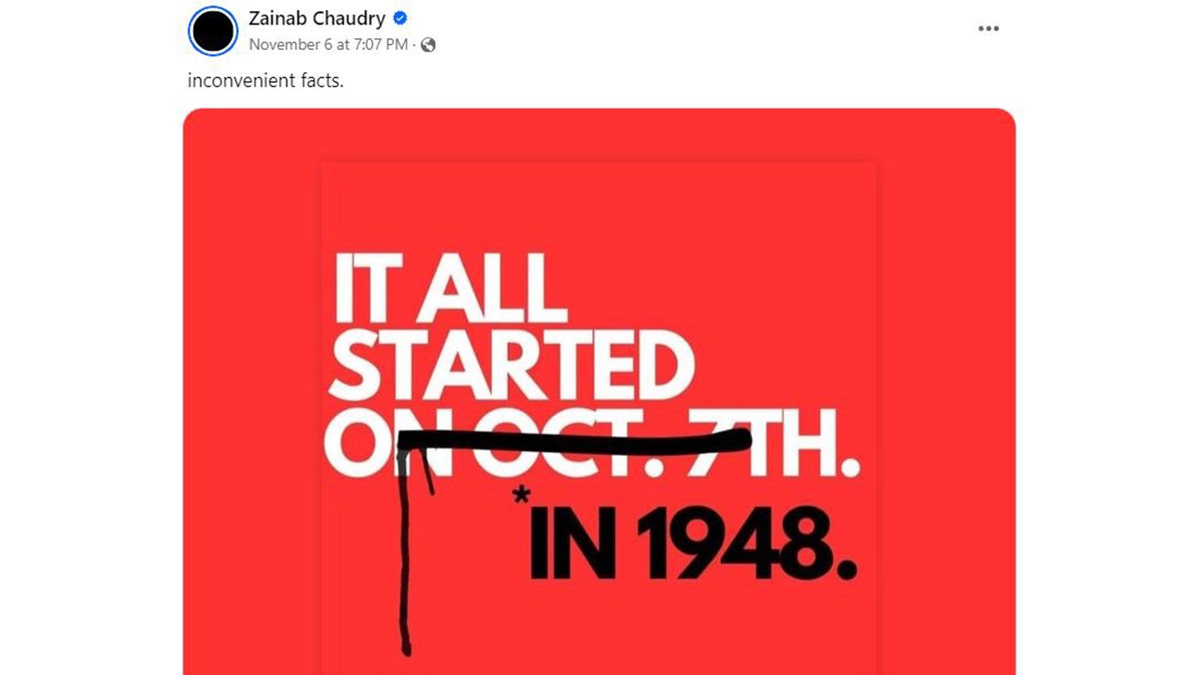 "The Israeli prime minister has analogized the bombing of Gaza to an ancient biblical story about the total genocide of a city, [and] declared that there are no innocent civilians in Gaza, the Israel defense minister has justified starving Palestinian civilians by calling them 'human animals,' the Israeli military spokesman has said that the aim of their bombing campaign is destruction rather than accuracy. Multiple Israeli ministers have called for the ethnic cleansing of Gaza, with one even calling the ongoing war a 'Nakba 2023,'" she mentioned.
"I strongly and unapologetically condemn Benjamin Netanyahu's far-right, racist government for repeatedly making such genocidal threats towards the Palestinian people and killing over 13,000 Palestinians in Gaza, most of them women and children murdered in their homes. Unlike many of the Israeli government's most extreme supporters, I recognize that killing any civilians is wrong, which is why my office has repeatedly condemned the killing of both Israeli and Palestinian civilians," she mentioned. 
CLICK HERE TO GET THE FOX NEWS APP
"There is no conflict between condemning the Israeli government's genocidal war crimes overseas and standing up against all forms of hate here at home, including antisemitism, Islamophobia and anti-Palestinian racism. False smears from anti-Palestinian and anti-Muslim extremists will not stop me from standing up for justice here and abroad," she added.
Fox News Digital has reached out to CAIR for remark.