The Massachusetts Institute of Technology (MIT) was blasted this week after its directors acknowledged the college stopped in need of expelling anti-Israel pupil protesters due to "visa issues."
MIT President Sally Kornbluth mentioned in a press release Nov. 9 that the college would merely droop college students who participated within the disruptive protest from non-academic campus actions to keep away from "collateral consequences for the students, such as visa issues." One day earlier, the Coalition Against Apartheid, a pro-Palestinian pupil group, carried out a big protest that Kornbluth confirmed defied MIT insurance policies governing pupil actions.
"In late morning, the face-to-face confrontation between the protesters and counterprotesters intensified," Kornbluth mentioned. "We had serious concerns that it could lead to violence. To prevent further escalation and protect the physical safety of everyone present – including both student protesters and passers-by in our busiest lobby — the administration felt it was essential to take action."
"The students will remain enrolled at MIT and will be able to attend academic classes and labs," she continued, noting a few of the protesters' "visa issues." "We will refer this interim action to the Ad Hoc Complaint Response Team, which includes the chair of the Committee on Discipline, for final adjudication."
DOZENS OF PRO-PALESTINIAN UNIVERSITY STUDENT CHAPTERS CELEBRATE ATTACK ON ISRAEL: 'NOT UNPROVOKED'
MIT was rapidly criticized for the choice as a result of, previous to the disruptive protest, the college threatened to expel any college students who acted in violation of its steerage and insurance policies relating to such actions. Kornbluth's assertion, they argued, appeared to contradict that earlier promise.
"So MIT was going to suspend these students for clearly and deliberately violating the rules after repeated warnings, but decided not to because it could lead to their visas being revoked," A.G. Hamilton, a conservative comentator and creator, wrote on X. "It seems that's something the students should have considered beforehand…"
"'Visa issues' are not only a reason to suspend these pro-Hamas foreigners from school, but also to deport them immediately," Sen. Tom Cotton, R-Ark., added in a submit of his personal.
ISRAELI COMEDY SHOW GOES VIRAL FOR 'RACIST FLUID' SKIT MOCKING ANTISEMITIC LIBERAL STUDENTS IN AMERICA
Israel War Room, a gaggle that tracks assaults in opposition to Jewish folks, posted a video Sunday which appeared to indicate anti-Israel protesters boasting that they efficiently acquired the college to "back down" from its prior threats. The group mentioned within the submit: "Who is in charge, MIT?"
"MIT didn't want to punish antisemitic foreign students harassing American Jews on campus because suspension would lead to deportation under the student visa rules," conservative lawyer Marina Medvin mentioned on X. "So MIT chose to help the antisemites instead of punishing them. Morality run amok." 
"MIT is one of the most prestigious universities in the U.S. These days, foreigners make up about 30% of the MIT student body," she continued. "Jewish students, on the other hand, make up about 6% of the MIT student body — a campus minority."
HERO ISRAELI TANK COMMANDER KILLED AFTER STORMING HAMAS TERRORISTS, SAVING CIVILIANS
Additionally, Simon Rosenberg, a Democratic strategist who based two left-wing teams, the New Democrat Network and the New Policy Institute, additionally criticized MIT directors.
"This is not an easy time for University leaders but holy cow how is that okay?"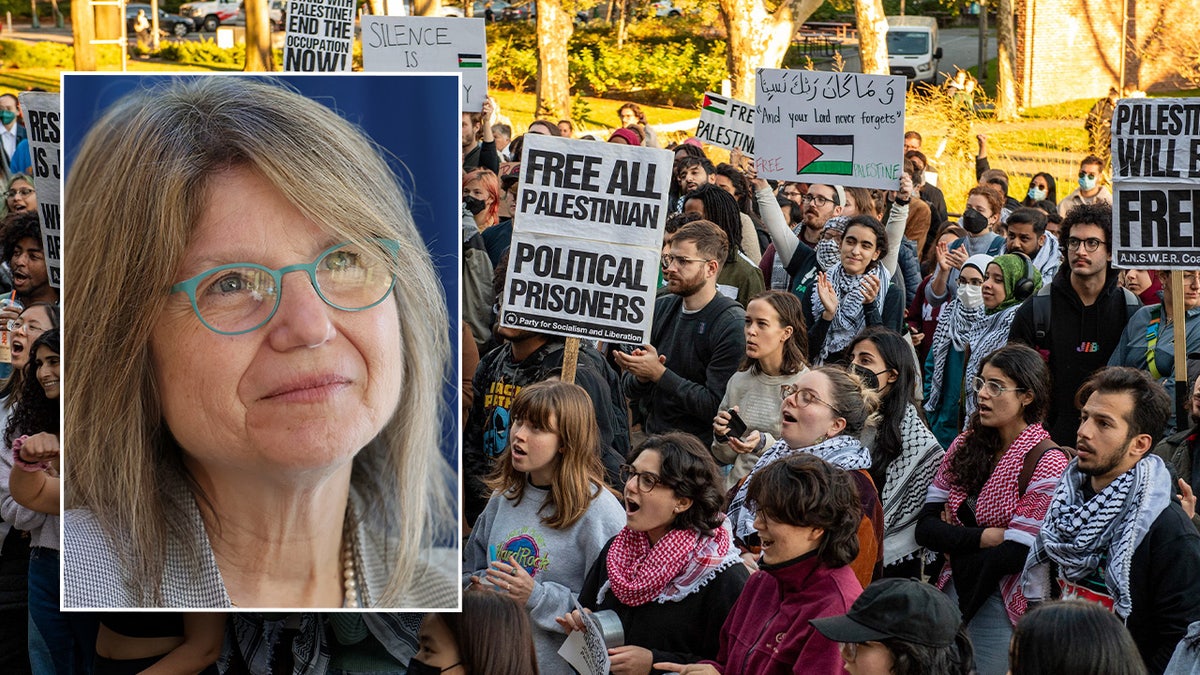 Meanwhile, Pro-Israel pupil group MIT Israel Alliance and its supporters have blasted college employees in latest weeks for having "no clear response" to the Coalition Against Apartheid's alleged repeated harassment of Jewish college students and employees members.
In a press release, the pro-Jewish group mentioned, "With each passing day, MIT admin's silence makes Jewish and Israeli students feel unsafe at MIT."
CLICK HERE TO GET THE FOX NEWS APP
MIT employees individually advised Fox News Digital that the administration has "received additional complaints about conduct by individual protesters and counterprotesters, and will be following up on those promptly."
MIT didn't instantly reply to a request for remark.
Fox News Digital reporter Gabriel Hays contributed to this report.