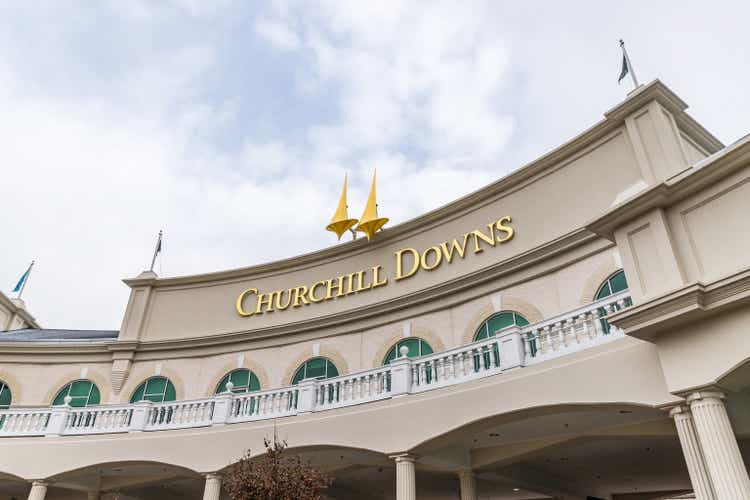 Churchill Downs (NASDAQ:CHDN) on Friday said it would suspend racing operations at its famed racetrack amid an investigation into the deaths of 12 horses.
CHDN stock was down 0.5% to $141.50 after hours.
The track, which hosts the nearly 150-year-old Kentucky Derby, will not see any racing beginning June 7 through the remainder of the Spring Meet, which is scheduled to run to July 3. The remainder of the meet will be relocated to Ellis Park Racing & Gaming.
"Churchill Downs Racetrack has seen an unusual number of horse injuries over the previous month resulting in 12 equine fatalities," CHDN said in a statement.
"Following a thorough internal review and concurrent investigations conducted by the Kentucky Horse Racing Commission (KHRC) and Horseracing Integrity and Safety Authority (HISA), no single factor has been identified as a potential cause and no discernable pattern has been detected to link the fatalities," the company added.
The Kentucky Derby is one of the most famous horse races in the U.S., typically attracting thousands of viewers. CHDN in early May had announced attendance of over 150K fans and a new wagering record.
CHDN said diagnostics testing of the racetrack by experts did not raise any concerns regarding the consistency of the surface.
Despite no indications of surface issues, the company said it took the step to suspend racing operations "in an abundance of caution" and after a recommendation from HISA.
Churchill Downs (CHDN) said it would "conduct a top-to-bottom review of all safety and surface protocols and integrity measures in collaboration and consultation with nationwide experts."
More on Churchill Downs
Churchill Downs: Undiscovered Jewel
Churchill Downs knocks out record revenue tally in Q1