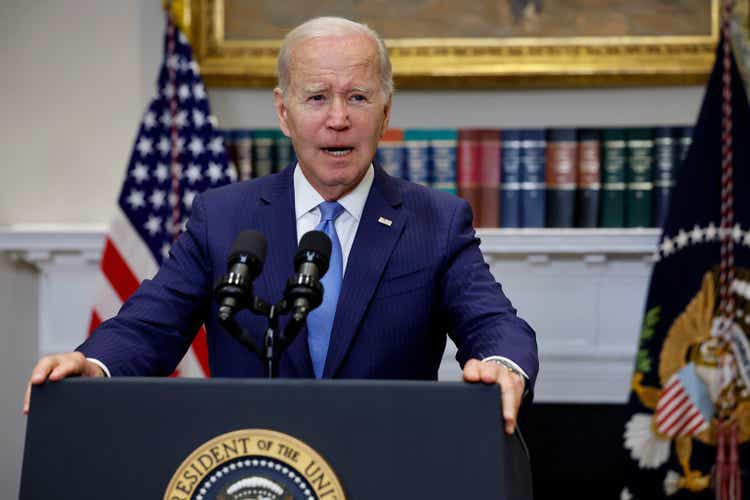 The debt ceiling agreement that was reached late Saturday "prevents the worst possible crisis, a default," President Joe Biden said.
The deal is a compromise, he said during a short press briefing on Sunday evening. "Nobody got everything that they want."
The agreement protects key priorities that "Democrats and I have worked long and hard for," Biden said. "I strongly urge both chambers to pass that agreement," he added.
Earlier on Sunday U.S. House Speaker Kevin McCarthy said he believed that a majority of Republicans would support the agreement. And even before today's press briefing, President Biden said he was confident that the bill would pass both the House and Senate to avoid default and a government shutdown.
At 7:08 PM ET, the U.S. Dollar Index has edged up 0.1% to 104.27. Futures for all three of the major U.S. stock averages are in the green, with S&P futures rising 0.4%, Nasdaq +0.6%, and Dow +0.4%.
When asked at the briefing if getting rid of the debt limit through the 14th amendment could solve the problem, Biden said it would only cause more controversy. Still he's looking at the 14th amendment to assess whether it's possible to eliminate the debt limit through that route at a later date.
Section 4 of the 14th amendment states: "The validity of the public debt of the United States, authorized by law… shall not be questioned."
Some of the most conservative members of the GOP have already opposed the agreement. "A $4T debt ceiling increase with virtually no cuts is not what we agreed to," Rep. Ralph Norman (R-SC) said in tweet.
Some progressive Democrats may come out against the legislation's increased stricter work requirements for some recipients of food and cash assistance.
The bill is expected to come to the House floor for a vote on Wednesday, May 31. And, if it passes the House, then the legislation heads to the Senate for a vote. After that President Biden needs to sign it for it to become law. Treasury Secretary Janet Yellen on Friday estimated that the department will run out of cash on Monday, June 5, if the debt ceiling isn't raised or suspended by then.
Dear readers: We recognize that politics often intersects with the financial news of the day, so we invite you to click here to join the separate political discussion.
More on the Debt Ceiling: