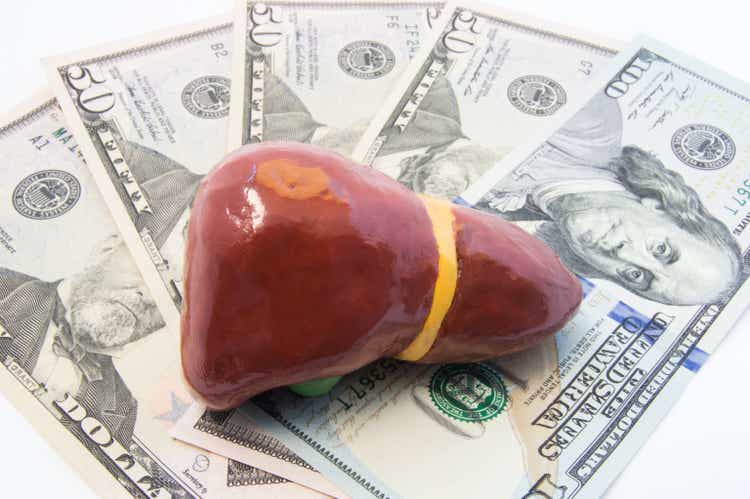 The Institute for Clinical and Economic Review (ICER), the influential U.S. drug pricing watchdog, has warned about the affordability of two medications currently undergoing studies for liver disease, nonalcoholic steatohepatitis (NASH).
Issuing a so-called access and affordability alert, ICER said in a recent report that future availability of Madrigal Pharmaceuticals' (NASDAQ:MDGL) resmetirom and Intercept Pharma's (NASDAQ:ICPT) Ocaliva (obeticholic acid) for NASH could strain the healthcare system.
Following a review by independent medical experts, the Boston-based non-profit has come up with a health-benefit price benchmark (HBPB) of $39.6K – $50.1K and $32.6K – $40.4K per year for resmetirom and OCA, respectively.
The estimates reflect the highest price manufacturers should charge for resmetirom and OCA based on the extent of health benefits that the two oral drugs can bring.
ICER, whose views are widely used by payers and sometimes lawmakers in decision-making, issued a draft version of the report early this year seeking public comments to fine-tune its analysis.
Its final report issued last week comes at a critical juncture for the NASH space. A week ago, an independent group of advisors to the FDA voted against a marketing application for OCA in NASH, a condition with no U.S.-approved therapies currently. Intercept (ICPT) is expected to receive a final decision on its New Drug Application (NDA) by June, 22.
Madrigal (MDGL) released positive late-stage results for its NASH therapy resmetirom late last year, and the biotech is on track to submit a New Drug Application in Q2 2023.
NASH, characterized by injury to liver cells, can lead to liver fibrosis and cirrhosis, putting patients at risk of death from liver failure or liver cancer. The second leading cause of liver transplant in the U.S., NASH is estimated to impact about 5% of Americans, and its prevalence is expected to more than double by 2030 in the U.S.
"Based on the anticipated prices and the large volume of patients eligible for treatment, the availability of new drugs for the treatment of NASH is anticipated to create pressures on affordability even if one of the agents is used preferentially," ICER said.
OCA, already approved in the U.S. for the rare autoimmune disease primary biliary cholangitis (PBC) has insufficient/ inconclusive clinical benefits for different stages of NASH-linked liver fibrosis, ICER argued.
"If the price of OCA is not substantially reduced from the price of the approved (lower) doses used for PBC, it will not meet typical cost-effectiveness thresholds."
As for resmetirom, the Boston-based organization has a higher degree of certainty over its benefits and fewer concerns about its safety and tolerability, particularly with regard to itching (pruritus), a side effect commonly linked to OCA.
"However, experts do note the lower risk of pruritis and improved lipids with resmetirom, suggesting that it would likely be the preferred choice in many cases," ICER noted.
Other drugmakers advancing treatments for NASH include, Gilead (GILD)/ Novo Nordisk (NVO), Akero Therapeutics (AKRO), Arrowhead Pharmaceuticals (ARWR), Viking Therapeutics (VKTX), 89bio (ETNB), Enanta Pharmaceuticals (ENTA), NGM Biopharmaceuticals (NGM) and Genfit S.A. (GNFT).
More on NASH