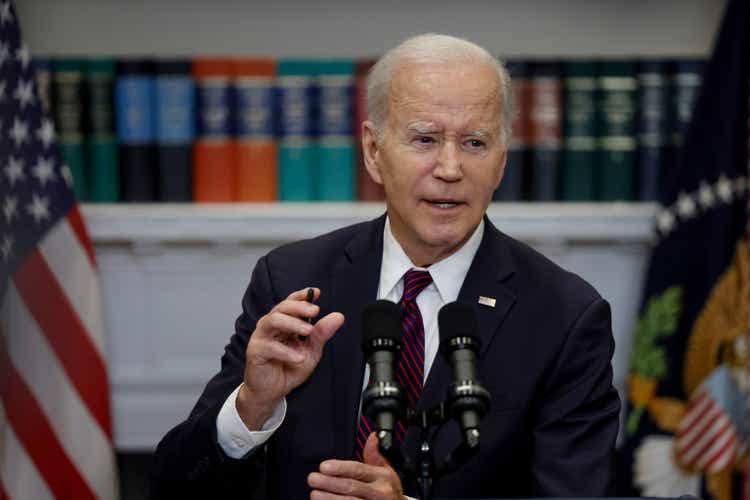 President Joe Biden signed on Saturday the bill that suspends the government's debt limit through Jan. 1, 2025, averting a first-ever default by the U.S.
In exchange for the debt ceiling suspension, the legislation agrees to cap non-defense discretionary spending, claws back some planned expenditures, expands work requirements for some federal assistance programs, changes environental review processes, and ends the suspension of federal student loan payments, the White House said.
Even though the U.S. government suspended the debt ceiling before the government ran out of money, which was expected to occur on Monday, Fitch Ratings said on Friday it's keeping the U.S.'s "AAA" rating on Rating Watch Negative "until we consider the full implications of the most recent brinkmanship episode and the outlook for medium-term fiscal and debt trajectories."
The ratings company, one of the world's three biggest on sovereign debt, said the political standoffs around the debt limit and last-minute suspensions before the Treasury's estimated default date "lowers confidence in governance on fiscal and debt matters."
If Fitch decides to lower its rating on U.S.'s credit rating, that could lead to higher borrowing costs for the world's largest economy. On May 24, Fitch put the U.S. on watch negative, putting the country U.S. in danger of losing its top-rated status because increased political partnership was hindering reaching a resolution on the debt limit.
In 2011, S&P lowered the U.S.'s rating to "AA+" from "AAA", its top ranking due to political wrangling over the debt ceiling. The company has not lifted the U.S. sovereign credit rating since then.
Dear readers: We recognize that politics often intersects with the financial news of the day, so we invite you to click here to join the separate political discussion.
More on the Debt Ceiling: