A number of states are becoming less friendly toward LGBTQ+ people — and they're putting themselves at economic risk as a result.
That's according to the annual LGBTQ+ Business Climate Index survey from Out Leadership, an organization that connects LGBTQ+ people and their allies with companies around the world. The survey tracks all 50 states in terms of a "broad array of markers of policies, attitudes, and measurements relating to LGBTQ+ inclusion."
Examples of such markers included nondiscrimination laws involving employment and housing, as well as the ability for transgender people to change gender markers on birth certificates and driver's licenses. Each state was given a numeric index score from 1 to 100 for how LGBTQ+ people experience living, working, building a family and building a life in each state.
This year's survey, released at the start of June's Pride Month celebration, found that scores dropped for more than half of states. In fact, the country's overall average score on LGBTQ+ equality dropped 1.14 points — a first since the organization began publishing its State LGBTQ+ Business Climate Index five years ago. The report suggested this decline came as a result of more than 500 anti-equality bills being introduced across 46 states this legislative cycle.
So which states were named the least LGBTQ-friendly in this report? Arkansas ranked lowest among all 50 states, with a score of 32. South Carolina (32.5), Louisiana (33.5), Tennessee (34.4) and South Dakota (34.97) rounded out the bottom five.
Conversely, New York ranked highest among all states in the 2023 survey, with a score of 93.67. Runners-up were Connecticut (93.27), Massachusetts (92.67), New Jersey (90) and Colorado (88.67).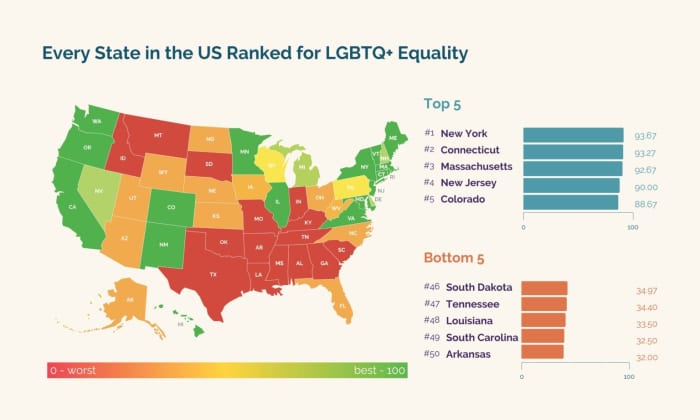 "While the top ranked states for LGBTQ+ equality broadly are staying strong, the bottom ranked states decreased in score significantly," Brian Sims, Out Leadership's managing director for public policy and government affairs, said in a statement. "This continues to signal increasing polarization across the country in political and cultural attitudes toward the LGBTQ+ community."
Florida, which has received national attention for its law banning classroom instruction about sexual identity and gender orientation — dubbed by critics the "Don't Say Gay" law — actually ranked 33rd. That's far from the bottom, though its score did decline from 53.43 in 2022 to 50.6 in 2023.
It's important to note that Florida has had a history of supporting LGBTQ+ people prior to its recent legislation, so its mid-level ranking reflects that, Out Leadership founder and chief executive Todd Sears told MarketWatch.
"Before DeSantis, Florida had a lot of positive, inclusive policies, and those haven't all gone away," Sears said.
MarketWatch reached out to officials in a number of states for comment about their rankings, including Florida and Arkansas, but didn't receive responses.
Sears said the declining scores in many states speak to the growing number of what he called anti-transgender laws, which have been enacted or proposed across the country. Such laws often ban gender-affirming care for transgender youth.
From the archives (June 2022): 'I'll do anything to keep my family together': Trans kids' parents are draining their savings to flee conservative states
States can pay a price for not being inclusive, the Out Leadership report added. An oft-cited recent example is the recent decision by Disney
DIS,
+2.46%
not to build a planned $900 million Florida campus, as well as the company shutting down its "Star Wars hotel" in Orlando this October.
Disney opposed Florida's "Don't Say Gay" bill and has been in a legal tussle with the state leadership ever since. A recent Wall Street Journal story noted that Disney's issues with the state played a part in the company's decision to abandon the project, along with changing business conditions.
Read more: Disney scraps plans on roughly $1 billion investment at new corporate campus in Florida 
And: Disney's Star Wars: Galactic Starcruiser experience is closing — here's what to know if you booked a trip
Plus, LGBTQ+ people hold an estimated purchasing power of $917 billion dollars in the U.S., and LGBTQ+ small businesses contribute $1.7 trillion to the American economy each year, according to a meta-analysis by the Service Corps of Retired Executives, aka SCORE, which mentors small businesses.
"Major corporate employers want to locate to places where they can recruit the best talent, without having to worry about state and local laws hindering their overall business success," Sears wrote in a statement accompanying the report. "Companies simply don't want to be at odds with the business policies and practices of the state they operate in, and they certainly don't want to feel attacked by them."
Sears added that states not seen as LGBTQ-friendly suffer in other ways beyond the financial. Valued workers will often opt to leave such states, he warned.
"It's not just the economic piece, it's the talent piece," Sears said.