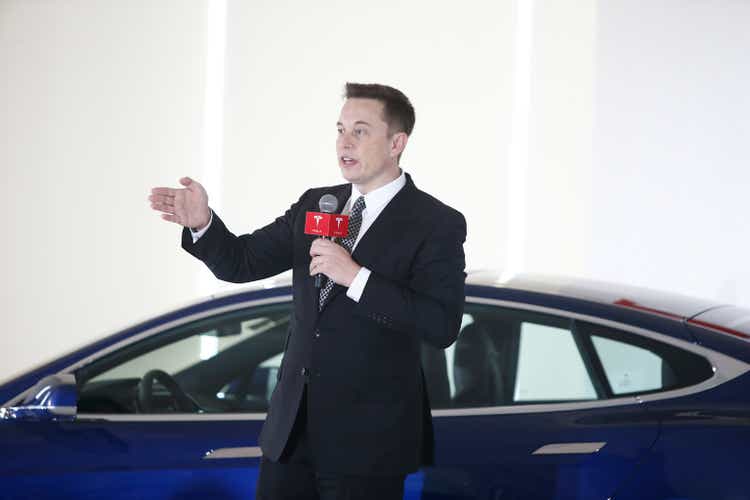 As the world's two largest economies move increasingly farther apart, companies that fear of getting hurt by the fallout are making moves. Some are diversifying or relocating their business operations to friendlier regions, while others are doubling down on their lobbying efforts to make sure they are not harmed. Tesla (NASDAQ:TSLA) is but one of the firms navigating the tricky waters, and even prompted Elon Musk's first visit to the country since a launch ceremony at Gigafactory Shanghai in January 2020 (remember the dance moves?)
Thought bubble: China represents Tesla's (TSLA) largest market outside the U.S. (22% of its revenue) and is critical in terms of the EV maker's supply chain (accounting for more than half of its global output). Things like export controls, data security, and restrictions on sensitive technologies can also impact the company's bottom line and future market share. Teslas were previously banned from Chinese military complexes and housing compounds in early 2021 (and that was expanded in 2022), while a lot of assurances will have to be made with regard to the driving information that's collected by cameras built into its vehicles.
"The interests of the United States and China are intertwined, like conjoined twins, who are inseparable from each other," Musk was quoted as saying to Foreign Minister Qin Gang. He also met with China's commerce and industry ministers, and dined with Zeng Yuqun, chairman of top battery supplier CATL. TSLA shares rallied over 4% on Tuesday after Musk touched down in Beijing, pushing the stock over $200 for the first time since March, but Tesla (TSLA) still faces stiff competition from Chinese rivals like BYD (OTCPK:BYDDY), as well soaring rates on auto loans amid an EV price war, notes SA analyst Wright's Research in Tesla: Prepare For A Macroeconomic Storm.
Under pressure elsewhere: Tesla's (TSLA) strategy in China is critical for its success in the near term, but Musk has a lot on his plate between his work at SpaceX and recently acquired Twitter. In fact, Fidelity Investments – which helped to finance his $44B takeover of the social media platform – said Twitter is now worth just one-third of what Musk paid for it after marking down the value of its equity stake. France has also threatened to ban Twitter across the EU if it doesn't follow the incoming European Digital Services Act, which goes into effect at the end of August.
More on doing business in China