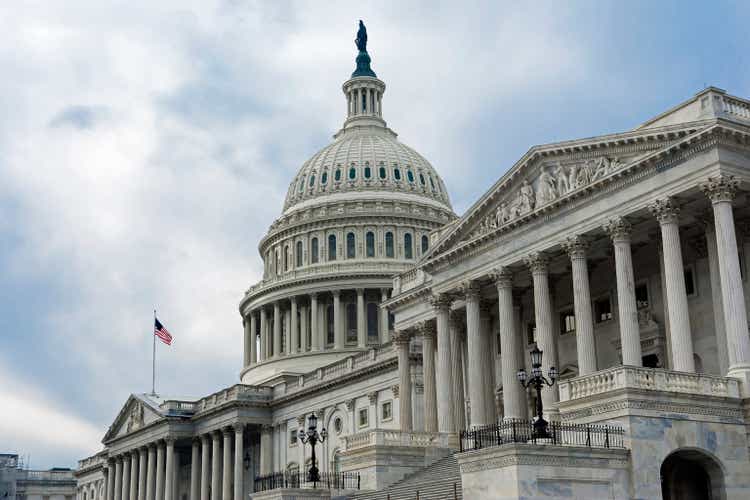 The U.S. Senate late Thursday night passed the debt ceiling package crafted by President Biden and House Speaker Kevin McCarthy (R-CA) over the Memorial Day weekend, sending the legislation to the president's desk in time to avert a first-ever default by the U.S.
Senators voted 63-36 in favor of the bill that suspends the debt limit until Jan. 1, 2025 in exchange for some measures that reduce non-defense discretionary spending, stiffen work requirements for some recipients of food assistance, and allow the Mountain Valley natural gas pipeline.
Votes in favor surpassed the supermajority threshold of 60 votes required for the legislation.
Futures for the three major U.S. stock averages all rose slightly, with the Nasdq up 0.1%, S&P up 0.1%, and the Dow also up 0.1%. The 1-month Treasury yield sank 21 basis points to 4.99% and the 10-year Treasury yield declined 3 basis points to 3.62%.
The vote came after the chamber voted on 11 amendments, all of which failed.
Biden said he's looking forward to signing the bill into law as soon as possible. "No one gets everything they want in a negotiation, but make no mistake: this bipartisan agreement is a big win for our economy and the American people," he said via tweet. He'll address the country on Friday, he added.
Meanwhile, Senate Minority Leader Mitch McConnell (R-KY) tweeted: "Tonight, the Senate voted to avoid default and begin to curb Washington Democrats' addiction to reckless spending." He called the vote "an important step toward fiscal sanity."
Dear readers: We recognize that politics often intersects with the financial news of the day, so we invite you to click here to join the separate political discussion.
More on the Debt Ceiling: