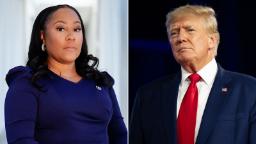 CNN
 — 

The Fulton County district attorney's office is seeking information from two firms that were hired by the Trump campaign with investigating claims of voter fraud after the 2020 election, according to sources familiar with the matter.
Investigators in Georgia, who have been probing Donald Trump and his allies' efforts to overturn the 2020 presidential election there, have sought information from Berkeley Research Group and Simpatico Software Systems about their work for the Trump campaign, the sources said.
Both firms researched allegations of voter fraud and reported their findings to the campaign. In both instances, the firms found allegations of voter fraud to be false or offered information to the campaign that refuted Trump's claims of election fraud.
The Washington Post first reported the outreach from Georgia investigators.
The chief executive for Simpatico Software Systems and an attorney for Berkeley Research Group declined to comment to CNN. A spokesperson for the Fulton County district attorney's office also declined to comment.
The efforts to obtain information from the research firms come as Fulton County District Attorney Fani Willis has been eyeing potential racketeering charges in her long-running criminal investigation.
The research firms could help establish a pattern of behavior of failed attempts to find voter fraud across multiple swing states that could be valuable evidence in a racketeering case. The firms' research could also help prosecutors establish that Trump's associates had been informed their voter fraud claims were baseless and still tried to overturn the 2020 election results.
Willis is likely to announce in August whether anyone will face charges as part of her investigation.