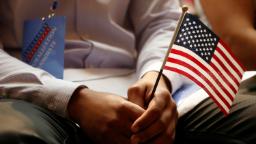 CNN
 — 

Two of the nation's most intractable problems might have the same solution – if the idea was not so politically radioactive.
Even as businesses across the nation are complaining about their inability to find enough workers, the federal government is struggling to stem the relentless flow of migrants at the Southern border trying to find work in the US. No one suggests the answer to worker shortages is to open the border, but it remains a paradox that the nation is straining to keep out migrants looking to work even as employers say the shortage of workers is preventing them from filling millions of jobs. That worker shortfall has also emerged as a key factor driving persistent inflation and higher interest rates.
"There's a mismatch between government policy and the economic reality on the ground," said David Bier, associate director of immigration studies at the libertarian Cato Institute. "We have a policy designed to keep people out and meanwhile we have a crisis in the labor markets where we have nearly 10 million open jobs and have for two years now."
That mismatch points toward a common response that may help alleviate both dilemmas: widening the pathways for legal immigration. Admitting more immigrants, many experts believe, is the most feasible way to expand America's stagnating labor force after years of historically slow growth in the nation's working-age population. And creating more opportunities for legal entry into the US – while maintaining strong penalties for illegal entry – may be the best long-term lever to reduce pressure on the border by encouraging more migrants to pursue legal means of entering the country and seeking work.
With or without more legal immigration, experts agree, deteriorating economic and social conditions in multiple countries across Latin America guarantees difficulty in controlling the flow of migrants trying to cross the Southern border. But, to a degree that hasn't been fully recognized, President Joe Biden and his administration are betting that creating more legal options will reduce the number of people looking to cross illegally and reduce pressure at the border, while also responding to the economy's need for more workers. "That's the theory of the case," said Angela Kelley, chief policy adviser to the American Immigration Lawyers Association and former senior adviser to Homeland Security Secretary Alejandro Mayorkas.
The Biden calculation is that more opportunity for legal entry creates more leverage for tougher enforcement. If potential migrants conclude they have no realistic chance to enter and work in America legally, the White House believes, they are less likely to be dissuaded by penalties under US law that can bar them from entry for years when they are caught trying to enter illegally. Migrants, after all, may not view such a prohibition on legal entry as much of a risk if there was virtually no chance of legal admission anyway. In the eyes of the administration, and like-minded immigration advocates, it takes a plausible carrot (the prospect of legal entry) to create an effective stick (with the entry ban of five years or more for illegal crossings that the administration announced when it ended the Trump administration's pandemic-era Title 42 policy at the border.)
"If you have legitimate consequences for unlawful entry combined … with easy to access legal pathways, these two things together reduce irregular migration," said one administration official, who asked for anonymity to discuss internal policy deliberations. "But one without the other has proven to be [ineffective]."
By itself, a more robust system of legal immigration "won't solve the current crisis," said Doris Meissner, former commissioner of the US Naturalization and Immigration Service under President Bill Clinton. But such a system, she believes, can contribute to stabilizing the border – and enhancing the credibility of enforcement efforts.
"If there are realistic ways of coming to the country – a range of them – it makes the enforcement and something like a five-year ban, much more salient" to migrants, said Meissner, now a senior fellow at the Migration Policy Institute, a center-left think tank.
Conservatives, meanwhile, remain dubious of any steps to increase legal immigration – even in the name of reducing illegal migration.
During the Trump presidency, the vast majority of House and Senate Republicans voted to impose the biggest cut in legal immigration since the 1920s – even as the US has been living through an extended period of slow growth in its population, especially those of working-age.
Conservatives continue to staunchly oppose efforts to enlarge legal immigration, and a coalition of Republican-controlled states are suing before a Trump-appointed judge to block one of the key steps Biden has taken to encourage it. Rather than admitting more immigrants, many on the right argue, the US should encourage more native-born adults to enter the workforce. "What we should not do is allow ever-more immigration that lets us ignore the crime, social disorder, drug abuse and other social problems that come with having so many working-age people out of the labor force," Steven Camarota, research director at the conservative Center for Immigration Studies, wrote earlier this year. Several Republican-controlled states have responded to worker shortages by rolling back restrictions on employing children, including in dangerous settings.
The backdrop for this immigration debate is that the US is living through one of its longest sustained periods of sluggish population growth. In fact, from 2010 to 2020, the population grew more slowly than in any ten-year span in US history except during the Great Depression, according to an analysis of Census Bureau data by William Frey, a demographer at the Brookings Metro think tank.
The slowdown has been especially acute in the youth and working-age population. The size of the US labor force (essentially the population 16 and older available to work) grew by almost three-fifths from 1960-1980 and rose again by more than a third from 1980-2000. But from 2000 to 2020 it increased by only around one-sixth. The labor force has been growing even more slowly since 2020.
Nor do demographic trends point toward any home-grown relief for this slowdown. As Frey points out, the number of children under 18 in the US declined by about 1 million from 2010 to 2020. The share of the population represented by kids, Frey calculates, has fallen from over one-third in 1960 at the height of the baby boom to only a little over one-fifth now. Because today's kids are tomorrow's workers, that decline ensures a sustained squeeze on the workforce.
Not only has the population of prime age workers stagnated, but so has the proportion of them actively participating in the job market. As the non-partisan Employee Benefits Research Institute pointed out in a recent study, the share of working-age adults holding or seeking jobs has been stuck in recent years at a little over three-fifths, down from about two-thirds from the late 1980s through around 2008.
Even these lackluster recent trends in labor force participation have been bolstered by an historic, and probably unsustainable, anomaly: a significant increase in the number of older Americans who are staying on the job. The share of the workforce comprised of workers older than 55 has doubled from about one-in-eight in 1993 to almost one-in-four now. That means the economy is far more dependent on older workers than at any point in its recent history.
Craig Copeland, director of wealth benefits research at EBRI, and author of the report, says that while many older workers want to stay on the job, either for financial reasons or personal satisfaction, the country likely can't sustain such elevated participation from workers past the traditional retirement age of around 65. As he notes in the study, labor force participation rates have "not returned to their pre-pandemic levels" for workers older than 65, with those 75 or older experiencing particularly steady declines. Even if older baby boomers do drift back into the job market, he adds, they cannot perform many of the jobs requiring manual labor that the economy continues to generate.
As Copeland notes, there's no agreed-upon explanation for the decline in the number of prime-age adults working or seeking work. Theories include everything from the opioid epidemic in many blue-collar communities, to the liberal argument that wages are too low, to the conservative contention that excessive social benefits make it too easy not to work.
Yet whatever the cause, the consequence is clear: a worker shortfall that has been cited by the Federal Reserve Board as one reason for stubborn inflation – and the board's response of repeatedly raising interest rates.
"The direction of what we're looking at in the labor force participation rates … is going to increase the pressure on businesses to find workers," Copeland said.
To Copeland that leaves only one plausible way to generate more workers in the near-term: admit more immigrants. As Bier from the Cato Institute points out, the US has already been relying on immigrants to bolster its pool of available workers: a study he conducted found that immigrants and their children have accounted for fully 70% of the growth in prime-age workers since 1995. "All the nativists portray it as if we are being overwhelmed with immigrants," Bier says, but the level of immigration in recent years has not been "nearly enough to make up for the huge decline in the number of US workers who are entering the labor force."
Which brings the debate back to the border. Though the surge of migrants that critics expected after the end of Title 42 has not materialized, communities near the border and beyond are still struggling to cope with the steady flow of those arriving and seeking asylum. Yet for many it remains jarring that the nation is simultaneously struggling to keep out throngs of people who want to work even as businesses insist they can't fill millions of jobs. "If we need low wage workers and there are a bunch of people at the border that want to work then maybe there is some way to figure it out," says Copeland. "But that's not where we are in in this political debate."
The Biden Administration hasn't much stressed the case that legal immigration could ease the crunch in the labor market. But it has advanced the complementary argument that more legal immigration could create a carrot-and-stick dynamic that discourages illegal migration. As Mayorkas put it at a recent press conference, "Our overall approach is to build lawful pathways for people to come to the United States, and to impose tougher consequences on those who choose not to use those pathways."
Using executive authority, Biden has done more to pave those legal pathways than generally recognized. Biden has doubled the number of migrants admitted under permanent employment visas by using his statutory authority to reallocate unused family-based visas to the employment category. He's significantly expanded the number of temporary guest workers admitted for both agriculture and seasonal employment in businesses like fisheries and hotels, and targeted some of those extra visas to Latin American countries, including Guatemala and El Salvador, where difficult domestic conditions heighten pressure for illegal migration. Biden has also substantially increased the number of people designated for "Temporary Protected Status" that allows them to stay and work (or study) in the US because of unsafe conditions in their home country.
Most ambitiously, Biden has used the federal government's so-called "parole" authority to legally admit large numbers of migrants from countries facing acute crises. Presidents of both parties previously have used the parole authority to admit, for instance, Vietnamese immigrants after the fall of South Vietnam or Cubans after the communist takeover of the island. After first applying the parole authority to people from Afghanistan and Ukraine, the Biden administration subsequently announced it would admit up to 30,000 migrants a month from four countries in this hemisphere experiencing high levels of chaos: Venezuela, Nicaragua, Haiti and Cuba. Those using the program must be sponsored by someone legally present in the US and fly to America; they are then authorized to work for two years. (The administration is developing a similar parole system to speed entry for migrants from Haiti, Cuba and four Latin American countries who are eligible to reunite with family members already in the US.)
The administration and its allies point out that illegal border crossings by migrants from the four countries designated for parole have plummeted since the program went into effect. "The evidence is promising," Kelley says, that the availability of parole "disrupts the smuggling operation" by encouraging more people instead to seek a legal pathway.
Still, the parole power is limited as a tool, since it only authorizes those admitted under it to stay in the US for two years. And a coalition of 20 Republican Attorneys General is suing to overturn Biden's use of it. The Biden Administration, the GOP officials argue in their suit, "under the false pretense of preventing aliens from unlawfully crossing the border between the ports of entry, has effectively created a new visa program — without the formalities of legislation from Congress." That suit is following a well-worn trail Republicans have used to block other Biden administration initiatives, with the case now before a Trump-appointed district judge in Texas and then facing review by the Fifth Circuit Court of Appeals, one of the nation's most staunchly conservative.
Biden's efforts to reduce pressure on the border by authorizing more legal immigration have relied on executive authority rather than legislation. That not only leaves him vulnerable to legal challenges, like the lawsuit from GOP-led states against his parole power, but ultimately limits his reach. Only Congressional action can widen the pathways to legal immigration at a scale that might truly respond to the nation's workforce shortages and possibly change the calculus for migrants considering an illegal crossing. Congress "absolutely holds the key to the castle," says Kelley. Yet, for all the Congressional fulminations over the border, neither side has stressed the possible contribution of more legal immigration to a solution.
Whatever happens to Biden's efforts to promote more legal immigration, Meissner believes they are only one component of a strategy to maintain order at the border. Also critical, she says, is something else the administration is pursuing: increased funding to allow asylum cases to be decided more quickly, in particular to ensure that those whose applications are denied face quicker removal from the US. "If your systems are working they…change people's behavior," she said. If applicants denied asylum are returned home more rapidly, she adds, "that changes the word of mouth that is taking place at the migrant level through social media, through the networks of information in the United States and abroad and of course among the smugglers."
Yet even the smoothest running system for regulating immigration, Meissner warns, will likely strain under the pressure created as millions flee mounting dysfunction in multiple countries across this hemisphere. The Biden Administration estimates that over 7 million people have left Venezuela alone in the past few years, the vast majority resettling elsewhere in Latin America. The partnerships the Biden Administration is trying to build with countries such as Canada and Mexico, Meissner says, are central to any possibility of regaining more control over migration across the region. "This can't be just the United States," solving the problem, Meissner says. The only effective solutions, she argues, "really now are hemispheric."