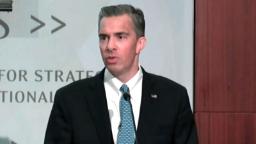 CNN
 — 

There will be "significant costs for US diplomacy" if Congress doesn't renew a controversial intelligence program gathering communications data that is set to expire this year, a senior State Department official said Tuesday, adding that US diplomats have used the program to monitor Russian atrocities in Ukraine.
The program, known as Section 702, allows authorized US officials to search a vast database that gathers phone calls and text messages of foreign targets overseas from US telecommunications providers. The data can include the communications of Americans in touch with those foreign targets.
US diplomats have also used the intelligence program to warn allies about North Korea's funding for its nuclear program, Assistant Secretary of State for Intelligence and Research Brett Holmgren said at the Center for Strategic and International Studies in Washington.
Holmgren was alluding to a rare public advisory that US agencies issued last year about thousands of "highly skilled" IT personnel who provide Pyongyang with "a critical stream of revenue" that helps bankroll the regime's "highest economic and security priorities." A CNN investigation identified one cryptocurrency entrepreneur who said his firm had unwittingly sent a North Korean tech worker tens of thousands of dollars.
"[I]t is hard to overstate the centrality of [the Section 702 program] to providing the Secretary of State" with timely intelligence, Holmgren said, citing what he said were newly declassified examples of the program's effectiveness.
Holmgren's speech is part of a full-court press by the Biden administration to convince Congress to renew a controversial intelligence program that some lawmakers oppose, citing recent revelations about the FBI's abuse of the program.
The FBI improperly searched a Section 702 database for information on suspects in the January 6, 2021, US Capitol riot and people arrested at 2020 protests after the police killing of George Floyd, according to a court opinion that was unsealed and released this month.
Holmgren called those abuses of Section 702 "disturbing and unfortunate," but said that significant reforms had been made in the years since to prevent such abuses. The FBI "changed its querying procedures to make sure these errors do not happen again," a senior FBI official said in a statement to reporters this month.
While the prospects for Section 702's renewal are uncertain, many lawmakers support the program because they see it as a key national security tool. But even some proponents of the program, including Republican Rep. Darin LaHood of Illinois, say it needs more safeguards to be renewed by Congress.