Republican House Speaker Kevin McCarthy's debt ceiling bill is advancing to a key committee Tuesday in its first test of GOP support. 
The House Rules Committee is scheduled to convene at 3 p.m., and a number of conservative members are expected to challenge the agreement to raise the government debt ceiling and set federal spending limits negotiated by the most senior House Republican himself. 
The committee will vote on sending the bill to the full House for a vote, expected to take place Wednesday. 
Three conservative on the committee, Reps. Chip Roy, R-Texas, Ralph Norman, R-S.C., and Thomas Massie, R-Ky., all members of the Freedom Caucus, have expressed hesitancy toward approving the package. Roy told Fox News on Monday that the U.S. is "barreling toward unlimited debt," and that "the American people didn't send me here to just do what the defense establishment, the spending appropriators all want to do in this town which is to spend money we don't have."
BIDEN BRUSHES OFF REPUBLICANS' DEFENSE SPENDING CONCERNS OVER DEBT CEILING DEAL, SUGGESTS DEAL COULD BE MADE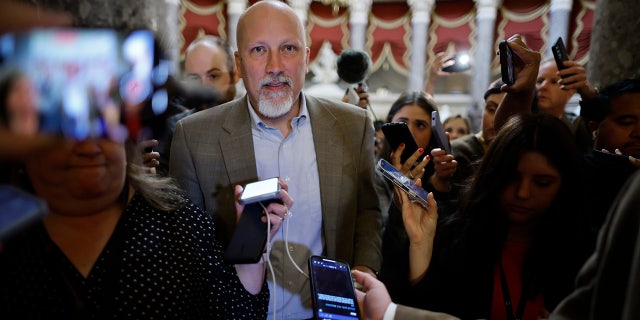 "I think it's important to keep in mind the debt limit bill itself does not spend money, but it does enable past deficit spending and any new deficit spending in the appropriations bills that Congress will pass in September," Massie tweeted Monday, Challenged by a Twitter user to "[t[ell me like I'm 8 what you are trying to say," Massie added, "We'll be taking out a second mortgage this week to pay off the credit cards, but it's not until September that we're actually buying the bass boat, the tanning bed, and a big screen tv." 
Notably, Massie supported McCarthy's speakership, suggesting he could back the debt limit agreement, while Roy and Norman both opposed McCarthy months ago. Massie also has pointed to a provision of the agreement that he helped draft that would automatically decrease spending if Congress fails to enact the annual appropriations bills.
The New York Times noted that lawmakers are generally expected to support bills that they help write, even if they opposed other included provisions. 
If McCarthy is forced to rely on Democrats to advance the package to a full House vote, that could require further deal-making, and his speakership could be perceived as weakened.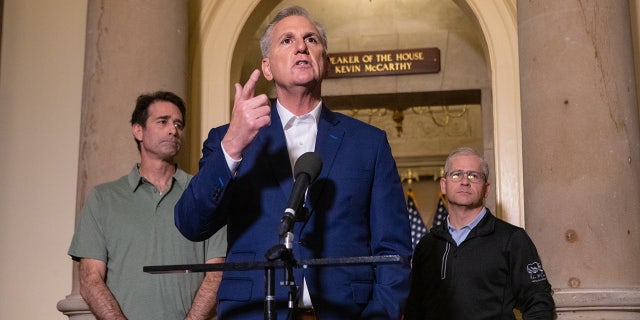 "A reminder that during Speaker negotiations to build the coalition, that it was explicit both that nothing would pass Rules Committee without AT LEAST 7 GOP votes — AND that the Committee would not allow reporting out rules without unanimous Republican votes," Roy tweeted Monday, noting a promise McCarthy made back in January. 
NOW COMES THE HARD PART: GETTING THE DEBT CEILING DEAL THROUGH CONGRESS
House Republican Chair Rep. Elise Stefanik of New York has laid out the party's messaging for the Fiscal Responsibility Act to "stop out-of-control inflationary spending," "rein in executive overreach," and "lift Americans out of poverty." House Freedom Caucus Chair Scott Perry, R-Pa., is hosting a press conference slated for noon on Monday. 
As lawmakers size up the 99-page bill, few are expected to be fully satisfied with the final product. However, Biden and McCarthy are counting on pulling majority support from the political center – a rarity in divided Washington – to prevent a catastrophic federal default. Wall Street will open early Tuesday morning delivering its own assessment, as the U.S. financial markets that had been closed when the deal was struck over the weekend show their reaction to the outcome.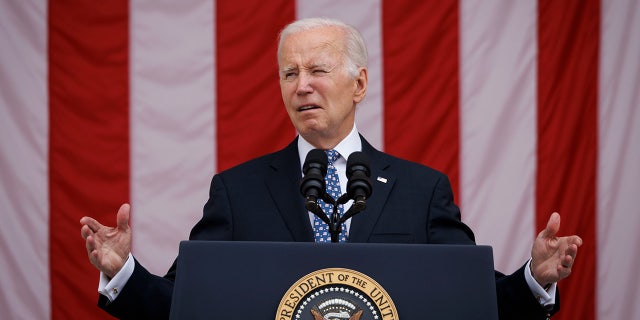 Biden spent most of Memorial Day lobbying lawmakers over the phone to secure votes on the package. The House aims to vote Wednesday and send the bill to the Senate, where Majority Leader Chuck Schumer, D-N.Y.,and Minority Leader Sen. Mitch McConnell, R-Ky., are working for a quick passage by week's end. 
CLICK TO GET THE FOX NEWS APP
Treasury Secretary Janet Yellen has estimated the federal government would default on its debt if a deal is not approved by June 5. 
Overall, the package is a tradeoff that would impose some spending reductions for the next two years along with a suspension of the debt limit into January 2025, pushing the volatile political issue past the next presidential election. Raising the debt limit, now $31 trillion, would allow Treasury to continue borrowing to pay the nation's already incurred bills.
The Associated Press contributed to this report.