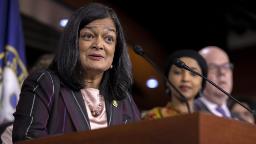 Washington
CNN
 — 

Washington Rep. Pramila Jayapal, the chair of the Congressional Progressive Caucus, said Sunday that White House negotiators and Democratic leaders should be concerned about progressive support for the tentative deal to raise the debt ceiling for two years
"Yes, they have to worry," Jayapal told CNN's Jake Tapper on "State of the Union," referring to some of the concessions made by the White House to reach the agreement with Republicans.
Following the announcement of the deal Saturday night, the White House and Republican leaders in Congress have been mounting an intensive push to consolidate support. But the marathon is far from over, and there remains little certainty the nation will avoid a default.
Whether House progressives will ultimately support the deal depends on the specifics of the agreement, Jayapal said, including how many people would be affected by expanded work requirements for certain adults receiving food stamps. The deal would also expand exemptions for certain recipients.
"It is really unfortunate that the president opened the door to this, and while at the end of the day, you know, perhaps this will – because of the exemptions – perhaps it will be OK, I can't commit to that. I really don't know," Jayapal said.
The Washington Democrat said that she was briefed by top White House official Lael Brainard after the current framework came together but that she will not make her position clear until she can see legislative text.
"That's always, you know, a problem, if you can't see the exact legislative text. And we're all trying to wade through spin right now," Jayapal said.
The deal – which would also freeze spending on domestic programs and increase spending on defense and veterans issues, among other things – was meant to include provisions that could sway members of both parties to vote for it.
Senior White House officials have been calling House Democrats since Saturday night to shore up support as some in the party say the Biden administration conceded too much.
Connecticut Rep. Jim Himes, the former chair of the pro-business New Democrat Coalition, told "Fox News Sunday" he was leaning toward a "no" vote on the tentative deal.
Himes said he did not want to validate the negotiating process used by Republicans, "which at the end of the day is a hostage-taking process," adding that, "as the speaker said, there is absolutely nothing for the Democrats in these things."
But in a positive sign for the White House's efforts to wrangle in Democratic votes, New Hampshire Rep. Ann McLane Kuster, the current head of the New Democrats bloc, signaled that her 99-member group may support the plan.
"Our Members are encouraged that the two sides have reached an agreement, and are confident that President Biden and White House negotiators have delivered a viable, bipartisan solution to end this crisis," Kuster said in a statement. "We are doing our due diligence as lawmakers to ensure that this agreement can receive support from both parties in both chambers of Congress."
Republican Rep. Dusty Johnson of South Dakota, one of the GOP negotiators on the deal, maintained that there were "no wins for Democrats" in the agreement.
"There is nothing after the passage of this bill that will be more liberal or more progressive than it is today. It is a remarkable conservative accomplishment," the chair of the center-right Republican Main Street Caucus said in a separate interview on "State of the Union."